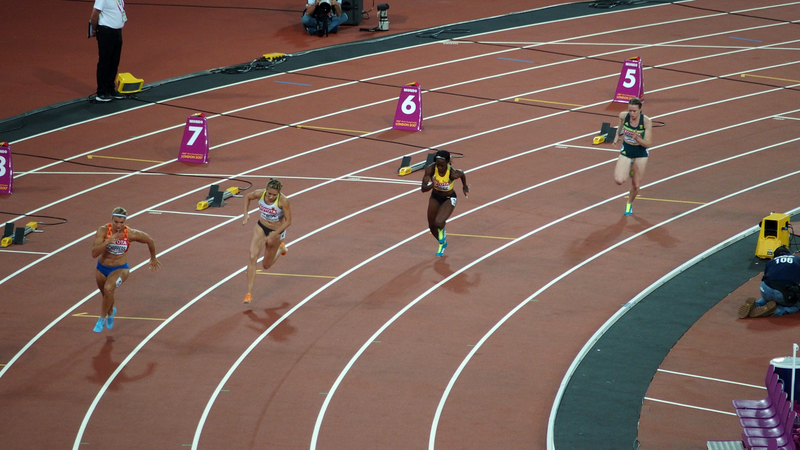 Five months after the US Women's National Football team set a series of new World Records in the FIFA World Cup 2019, culminating by scoring the most amount of goals ever in a single match at the World Cup (including both male and female matches), female athletes and sports teams have continued to enjoy yet another groundbreaking year. 
With the start of a new decade just around the corner, it seems that women are finally beginning to gain a new level of prominence in the field of professional sports. Across the world, elite sportswomen are becoming much more visible, proving that women in sport no longer need to play second fiddle to men.


Let's take a look at some of the more recent developments
The Brits aren't messing around
In November, the shortlist for the BT Sport Action Woman of the Year Award was announced. Although awards such as these are ridiculed as much as they are loved by female athletes, crucially this year's shortlist served to remind us of the incredible sporting achievements made by British female athletes during 2019. 
In March, Bryony Frost made history as the first ever female jockey to win a Grade One fence race at the Cheltenham Festival, riding Frodon. Katarina Johnson-Thompson, not content with just winning heptathlon gold at the Doha World Championships, did so in record breaking style by setting a new British record with a total score of 6981 points. While Dame Sarah Storey claimed an incredible 35th world victory this year at the UCI Para-cycling Road World Championships. 
In the boxing ring, Ireland's Katie Taylor continued along the path in women's boxing memorably carved out by pioneers like Jane Couch and Nicola Adams. Last month, Taylor took a unanimous win over Christina Linardatou at the Manchester Arena to scoop the WBO World Super-Lightweight Belt. Not only did the two-weight world champ headline the sold-out event, Manchester's own and former Lightweight champion Anthony Crolla's final professional fight was on the undercard. 
Simone Biles becomes the most decorated athlete in the history of Gymnastic Championships
The unstoppable Simone Biles has recently made the headlines with her 24th gold medal in the World Gymnastic Championships. The exceptional US gymnast now has a total of 30 medals claimed in both the Worlds and the Olympic Games combined. 
Her 24th gold in the beam, which was accompanied by a near perfect 15.066 score, also meant that Biles broke Vitaly Scherbo's previous World Record of 23, and became the most decorated athlete in the history of the World Gymnastic Championships. 


Money talks....
A recent article from Forbes magazine also shows clear signs of progress in terms of the amount of money female athletes are now earning. Make no mistake, in sports across the board there is still a long way to go before female athletes are paid the same amount as men, but progress in certain sports like tennis has been encouraging. 
Incredibly, it's only been just over a decade since female tennis players won the fight to receive the same prize money as their male counterparts in the Wimbledon Championships. During this year's tournament, both the men's and women's Singles Champions were awarded £2.35 million along with those iconic trophies. The debate still rages on, but the result of this progress means that there are now 44 professional female tennis players who have earned at least $1 million during the 2019 WTA Tour. 
World Number one Ash Barty finished up the tour as the highest earner, having won a total of  $11,307,587 this year and her first Grand Slam title at Roland Garros. 2019 Wimbledon champion Simona Halep is ranked second, with total earnings of $6,962,442.
Meanwhile, former World No. 1 and winner of the 2019 Australian Open, Naomi Osaka, earned $$6,788,282, with US Open champ Bianca Andreescu not far behind with a total income of $6,504,150. 
Of the 44 players who have scooped the top pay, 33 of them won $1 million or more in singles games alone, with six players earning $1 million or more from doubles games alone. 
Despite the serious earnings racked up by female tennis players, there are still 10 less female millionaires in the game than there are male. A total of 54 male players finished the 2019 ATP Tour with total earnings of $1 million or more, headed up by Rafal Nadal, who scooped total winnings of $12,214,586. 
Visibility outside the sporting arena
It's not just inside their respective competitive arenas that sportswomen are becoming more prominent. Female athletes are becoming more visible in supporting industries, with sectors as diverse as sports betting and talent management experiencing new growth. 
In sports betting for example, although the industry is still relatively young on US shores, the increasing number of betting markets being opened for women's team and individual sports, combined with promotional free bet offers by online platforms, makes for an engaging prospect. 
Meanwhile, the sports marketing and talent management giant, Wasserman Media Group - which counts athletes like Russel Westbrook, Steven Adams and Giancarlo Stanton on its books - formally opened the door to female athletes in the form of the Collective. This brand new division of the agency will work exclusively with women in sports and entertainment, boosting their visibility by connecting female athletes with major brands, companies and consumers and fans. 
Lenah Ueltzen-Gabell, managing director of Wasserman EMEA, is confident that the Collective will "educate brands and properties on how to engage, and why to engage with women's sports and female athletes", while educating athletes themselves on their value as both sporting professionals and brands in their own right.
A powerful message is being conveyed right now that women's sport is everything that men's sport is, and that it can be watched and enjoyed by both sexes. Initiatives like the Collective will hopefully address a number of the unfortunate issues that the increased exposure of women's sport has shone a light on, ensuring that as we move into a new decade they won't be perpetuated or repeated.