Maui Jim Nahiku Chocolate Fade Womens Sunglasses

Gorgeous sunglasses from Maui Jim
Every season they come up with some amazing designs and these are the best so far, I loved them
I went to India travelling for a month and wore the glasses everywhere. In 35 degrees everyday you had to wear sunglasses as I was walking around alot. They held off the glare amazingly well, I was so pleased with them 
Buy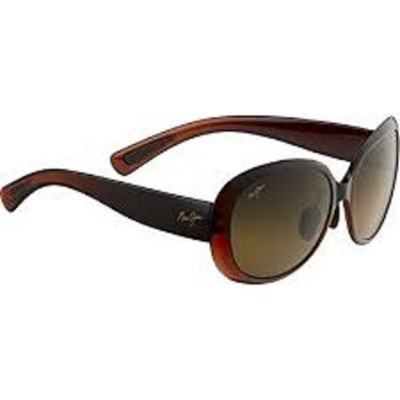 INSPIRED BY HIGH FASHION 
A small community located in eastern Maui just along the road to Hana, Nahiku is a paradise of color. This oversized frame is lightweight, comfortable and has a unique personality of its own. Its PureAir lens technology fuses the crispest optics with superior lightweight comfort you can wear all day.
Features:
Shape: Oversized round frame shape best complements square or oblong face shapes.
Bridge: Saddle-style bridge with adjustable nose pads for comfort.
Material: Lightweight, injected nylon frame designed for longer wear time.
Hinge: Anti-corrosive traditional hinge.
Fit: (eye) 59, (bridge) 17, (temple) 145, 6-base curve
Finish: Four color options available in a high-gloss finish.
Lens Color:

HCL® BRONZE FULL SUN TO OVERCAST 
For everyday variable conditions, from full sun to overcast. Provides excellent contrast. Great if you love a warm, subtle bronze tint.

Lens Technology:

Maui Pure™
The perfect lens for your everyday active lifestyle, MauiPure® is the lightest weight choice for long days in the sun. Scratch and impact-resistant. Injection molded for the crispest optics next to glass.
Specifications:
Frame: Chocolate Fade
Lens: HCL® Bronze
Lens Material: Maui Pure™
Approximate Weight: