Ugandan outfit JKL Lady Dolphins defeated East African stalwarts and reigning champions Kenya Ports Authority 63-56 on Saturday in the final to emerge as the new FIBA Africa Zone 5 champions.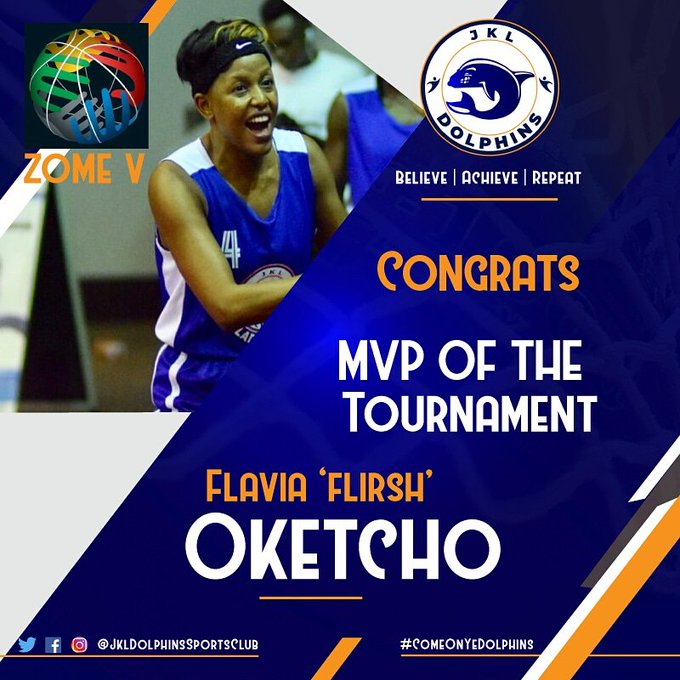 KPA held a slight lead at the end of the first quarter15-14 as both sides carefully went about their business and experience visibly seen through their well calculated moves shown a limelight on the best two sides at the tournament. 
The hunger to achieve the crown ultimately laid a foundation for a perfectly tense matchup between the two sides but the Tanzanian fans too were left entertained by a thrilling game of basketball so befitting of a Saturday night. 
Returning from maternity leave, KPA's point guard Nathalie Akinyi led her side on both ends of the court but she met a rather determined and motivated Flavia Oketcho aka Flirsh who on the night reminded everyone why she has been at the top of women's basketball in the region for almost two decades. 


KPA led 33-28 at the half time break but JKL Lady Dolphins head coach Mandy Juruni switched up his side's defense and scored 22 while limiting the Mombasa-based side to just 15 points in the third quarter. 
The icing on the cake was a perfect last quarter that saw the Ugandans come out of the blocks in style to dominate the game on both ends of the court and limited KPA to a paltry eight points to win their first ever regional title and a ticket to the continental showpiece that will bring them to the same table with the best teams in Africa. 
Brenda Ekone Macuei was named the woman-of-the-match after posting an impressive double double of 15 points and 10 rebounds on a night that she will never forget. 
Oketcho, who walked away with the Most Valuable Player Award, told FIBA.basketball that, "We have made history and that alone is greater than anything I can imagine. We came in as underdogs but our strength and determination and heart proved ruthless."


Flirsh, who featured for KCCA Leopards at the 2015 edition in Angola, has missed out on the three straight tournaments and feels that now is the time to make another appearance on the big stage. 
"I always wanted to get back on this stage. In my last campaign, we were not prepared for what we got here but now we have an idea and to those who do not, they have me to give an insight."
Meanwhile, APR of Rwanda stunned Kenya's Equity Hawks 68-53 to finish third at the regional tournament inspired by Nicole Urwibutso who was unstoppable netting a game high 27 points, nine rebounds and two steals. 


JKL Lady Dolphins have now joined the reigning champions Ferroviario de Maputo of Mozambique and hosts MB2ALL as the three sides that have automatically qualified for the event. 
Nine slots are available for the 12-team showpiece with more regional qualifiers coming up next month across Africa. Angolan giants Inter Clube remain the most decorated side with five titles won in 2010, 2011, 2013, 2014 and 2016. 
FIBA