his year's FA Women's Continental Tyres League Cup Final will be held at Nottingham Forest's City Ground. 
The 30,000 capacity stadium will replace Brammall Lane as the venue of last year's final, where Manchester City beat Arsenal 4-2 on penalties following a gritty 0-0 draw.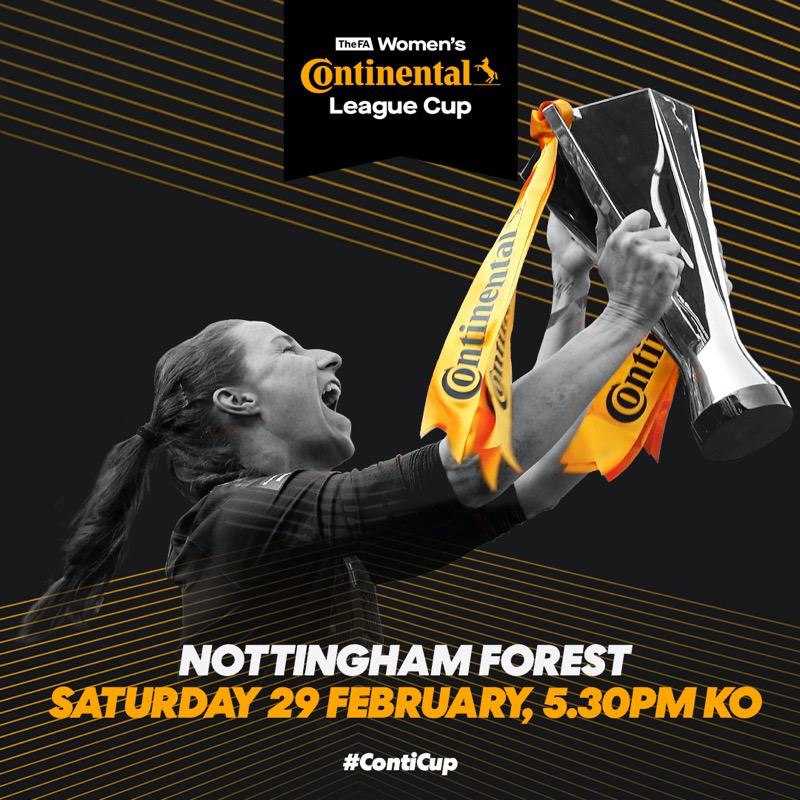 The final will kick off at 5:30pm and will be broadcast live on BT Sport 1 and 4k UHD while fans can purchase early bird tickets from 10:00am tomorrow at www.thefa.com/tickets.


The semi-final draw for the FA Women's Continental League Cup will take place on BT Sport Score on BT Sport 1 at 3:50pm, Saturday 18 January. Karen Carney and Jules Breach will be conducting the draw.
Wednesday night's results saw the holders Manchester City beat Sheffield United 4-0 while Manchester United fended off Brighton & Hove Albion for a spot in the last four with a 2-1 win. 
And Arsenal edged past Reading with a 1-0 win courtesy of captain Kim Little while Chelsea saw off Aston Villa with a 3-1 victory 
Kelly Simmons, The FA's Director of Women's Professional Game, said: "We are delighted to confirm The City Ground as the host of the FA Women's Continental Tyres League Cup Final.
"It is an iconic venue in the heart of the country and fitting for the conclusion of the competition.
"The final will be one of the showpiece fixtures in the women's football calendar and we hope fans across the country will join us and take advantage of the early bird ticket offer, which is now live."
Early bird tickets will be available at £7.50 for an adult until Friday 7 February. Thereafter, tickets will be £10.00 for an adult, and £1 for a concession. Full ticket details can be found at www.thefa.com/tickets.