Just like we've seen in many other sports and games, women have faced adversity to claim the right to be taken seriously as players. Poker tournaments have traditionally been an  all-male environment but, in the last few decades, some great female poker players have been making waves.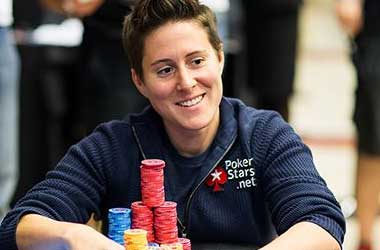 Luckily, things have changed considerably, and poker along with Casino Games are being activity enjoyed by millions of people around the globe, women and men alike.

It is also about those women whose efforts have contributed to bringing more exposure to poker. With more or less tangible success, all of these female players have helped bust the myth that poker is a man game only.

This article  covers some of the top female poker players. Some dominate cash games, while others are big winners on the international tournament circuit. I am sure that many more women can be added to this list – and that even more are working their way through the stakes at this very moment.


Kristen Rousso

Hailing from Canada, Kristen Bicknell sits in the third spot of the Women's All-Time Money List. While she was never that present in the media, it didn't stop her from quietly building a successful poker career.
As of today, Kristen Bicknell's net worth stands just around $5.1 million, according to the Hendon Mob.
Born in 1986, Kristen Bicknell poker career started online. She discovered the game a bit late, or at least later than some of her fellow players.

Vanessa Rousso

Vanessa Rousso is the 3rd female pro on our list with a connection to PokerStars. She was a member of their pro team between 2007 and 2015. Known for her distinctive look – a cap, headphones and designer sunglasses – Rousso is a formidable player in both cash games and tournaments. While she has yet to win a WSOP bracelet, her tournament winnings total more than $3.5 million.


Joanne JJ LIU

Known as 'JJ', Joanne Liu is as well known for her distinctive hats as her poker results. This pro is now a resident of Palo Alto, CA – though was born and raised in Taiwan. Trained as a computer scientist, and skilled in Chinese gambling games, JJ took the poker world by storm in the early 2000's. She became the highest placed finished in WPT history after finishing as runner up in the World Poker Tour Bay 101 tournament in 2004. She would parlay this success at the WSOP, making a final table.

Vanessa Selbst

Selbst is the only woman ever to have held the number one ranking on the Global Poker Index. Her lifetime tournament winnings total a mind-blowing $11.8 million (and counting). She is the 4th woman on our list be involved with PokerStars as part of their team or pros.
Her single biggest score came from the PokerStars Caribbean Adventure. She won the high-roller event for a cool $1.4 million. Other achievements include three WSOP bracelets – plus back to back scores on the North American Poker Tour.
There are definitely more opportunities for women to play Poker nowadays, and the industry is improving for females all the time. What a breath of fresh air to see the female players being recognized and given an equal opportunity.