COLORADO SPRINGS, Colo. – Junior forward Meghan Agosta (Ruthven, Ont./Mercyhurst College), senior forward Sarah Vaillancourt (Sherbrooke, Que./Harvard University) and senior goaltender Jessie Vetter (Cottage Grove, Wis./University of Wisconsin) are the three finalists for the 2009 Patty Kazmaier Memorial Award, it was announced today by the USA Hockey Foundation. In its 12th year, the award is presented annually to the top player in NCAA Division I women's ice hockey.

2009 Patty Kazmaier Memorial Award
Finalists
Meghan Agosta • Mercyhurst College
Junior • Forward • 29GP, 38-37--75
Sarah Vaillancourt • Harvard University
Senior • Forward • 27GP, 25-27--52
Jessie Vetter • University of Wisconsin
Senior • Goaltender • 30-2-5, 1.33, .936


The trio represents three NCAA Division I women's ice hockey conferences – College Hockey America (Agosta), ECAC Hockey (Vaillancourt) and the Western Collegiate Hockey Association (Vetter). Last year, Vaillancourt won the award, while Agosta was in the top three in both 2007 and 2008.


This year's winner will be revealed at an award ceremony on March 21 at the Royal Sonesta Hotel Boston, in conjunction with the NCAA Women's Frozen Four. It will feature the three finalists, the Frozen Four participating teams and NESN's Kathryn Tappen as the master of ceremonies. A limited number of tickets are still available to the event and may be purchased at PattyKaz.com or by calling 800-566-3288, ext. 184 ($85/individual seats, $800/table of 10).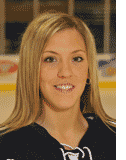 Agosta, who serves as Mercyhurst's captain, is one of the most prolific scorers in the NCAA. Becoming the first-ever player to be a top-three finalist three times, Agosta currently leads the nation with 2.59 points per game. She also holds the top spot in both goals per game (1.31) and assists per game (1.28). Her 75 points (38-37) in 29 games rank No. 1 in the NCAA, and she was named the CHA Player of the Year and was a unanimous First Team All-CHA honoree. In addition, Agosta was named to the all-tournament team in leading Mercyhurst to its seventh straight CHA playoff championship, as the Lakers earned the No. 3 seed in the NCAA tournament.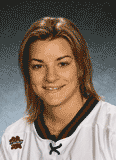 Vaillancourt, last year's Patty Kazmaier Memorial Award winner, has had a standout senior season at Harvard. She led the Crimson in nearly every offensive category to help Harvard win both the ECAC Hockey and Ivy League regular-season crowns. She ranks fourth in the nation with 1.93 points per game, tied for seventh with .93 goals per game and tied for fourth with 1.00 assists per game. Her 52 points (25-27) in 27 games rank 10th in the NCAA. Named both the ECACH and Ivy League Player of the Year, Vaillancourt, a Harvard co-captain, also earned ECACH and Ivy League First Team honors.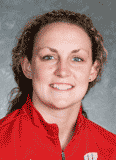 Vetter has backstopped the Badgers to unprecedented success throughout her career. This season, she has been in net for all but one game and has posted 30 wins. Her 12 season shutouts, 37 career shutouts and 88 career wins all set new NCAA records. The Badger alternate captain holds a 30-2-5 record and ranks second in the nation with both a .936 save percentage and 1.33 goals-against average. Her .878 winning percentage is fourth in the NCAA, while her 2162:16 minutes are the second most. Vetter, a First Team All-WCHA honoree, garnered all-tournament team accolades and was named the WCHA Final Five Face-Off MVP en route to helping Wisconsin capture the WCHA playoff championship and the top seed heading into the NCAA tournament.


The top three finalists, including the recipient of the Patty Kazmaier Memorial Award, are chosen by a 13-member selection committee comprised of NCAA Division I women's ice hockey coaches, representatives of the print and broadcast media and a representative of USA Hockey, the National Governing Body for the sport of ice hockey in the United States.


NOTES: Meghan Agosta is the only top-three finalist in Mercyhurst history (2007, 2008, 2009). She is the first player ever to be a three-time top-three finalist … Sarah Vaillancourt is the ninth top-three finalist from Harvard (A.J. Mleczko-1999, Jennifer Botterill-2001 & 2003, Tammy Shewchuk-2001, Angela Ruggiero-2003 & 2004, Julie Chu-2007, Sarah Vaillancourt-2008) … Jessie Vetter is the third top-three finalist from Wisconsin (Sara Bauer-2007 & 2008) ... Agosta, Vaillancourt and Vetter were named among the top-10 finalists for the award on March 2, along with Rebecca Johnston (Sudbury, Ont./Cornell University), Hilary Knight (Hanover, N.H./University of Wisconsin), Monique Lamoureux (Grand Forks, N.D./University of Minnesota), Erika Lawler (Fitchburg, Mass./University of Wisconsin), Gigi Marvin (Warroad, Minn./University of Minnesota), Molly Schaus (Natick, Mass./Boston College) and Jenn Wakefield (Pickering, Ont./University of New Hampshire) ... For more information on the Patty Kazmaier Memorial Award, visit PattyKaz.com.


ABOUT THE PATTY KAZMAIER MEMORIAL AWARD
An award of The USA Hockey Foundation, the Patty Kazmaier Memorial Award recognizes the accomplishments of the most outstanding player in NCAA Division I women's ice hockey each season. Selection criteria includes outstanding individual and team skills, sportsmanship, performance in the clutch, personal character, competitiveness and a love of hockey. Consideration is also given to academic achievement and civic involvement.


ABOUT PATTY KAZMAIER
The Patty Kazmaier Memorial Award is named in honor of the late Patty Kazmaier, who was a four-year varsity letter-winner and All-Ivy League defenseman for Princeton University from 1981-86. An accomplished athlete who helped lead the Tigers to the Ivy League Championship in three consecutive seasons (1981-84), Patty Kazmaier-Sandt died on Feb. 15, 1990, at the age of 28 following a long struggle with a rare blood disease.


Patty Kazmaier Memorial Award Winners
| | | |
| --- | --- | --- |
| Year | Name | School |
| 1998 | Brandy Fisher | University of New Hampshire |
| 1999 | A.J. Mleczko | Harvard University |
| 2000 | Ali Brewer | Brown University |
| 2001 | Jennifer Botterill | Harvard University |
| 2002 | Brooke Whitney | Northeastern University |
| 2003 | Jennifer Botterill | Harvard University |
| 2004 | Angela Ruggiero | Harvard University |
| 2005 | Krissy Wendell | University of Minnesota |
| 2006 | Sara Bauer | University of Wisconsin |
| 2007 | Julie Chu | Harvard University |
| 2008 | Sarah Vaillancourt | Harvard University |