Christine Ohuruogu (coach: Lloyd Cowan) delighted the home crowd, winning the women's 400m in a world class 50.00. The Londoner had to really dig deep in the home straight to hold off America's Francena McCorory, and she was not only rewarded with victory, but a season's best clocking and the Sainsbury's performance of the day award too.

"I'm happy with the win and I ticked the box today. I put the result down to hard work and will go away and speak with my coach and see what we can work on for the World Championships," she said.




There was a very promising run for Shana Cox (George Harrison) who also clocked a season's best of 51.12 to finish fourth.


Jessica Ennis-Hill (Toni Minichiello) made an emotional return to competition, exactly one year on from her Olympic Games triumph. She contested both the 100m hurdles and the long jump to test her recovery from injury, which had forced her to delay the start of her season.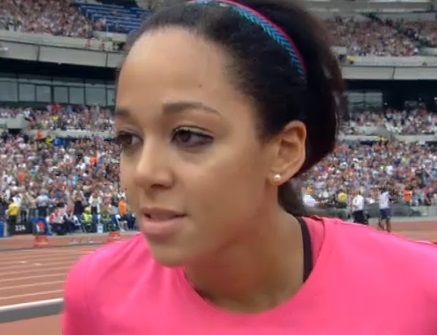 The hurdles were first up, and it also featured Olympic champion Sally Pearson and GB & NI's Tiffany Porter (Rana Reider). They took a 1-2, with Pearson clocking a season's best of 12.65, whilst Ennis-Hill was fourth with a 13.08 clocking.

"It is really nice to be back in the stadium a year on - obviously I have really good memories from last time. It's a bit of a different situation to last time, but it's great to be back in front of a home crowd and in the stadium," she said.

Meanwhile Porter added: "I had some bad aspects of the race but I'm happy to finish it and stay healthy. I'm very confident for Moscow. It's absolutely amazing to be here; I love running here."

Next up for Ennis-Hill was the long jump, but it was the girl tipped as the next Jess Ennis-Hill who stole the show. European Under 23 heptathlon champion Katarina Johnson-Thompson (Mike Holmes) took victory with the final jump of the competition, leaping to 6.46m, to delight the crowd just moments after Mo Farah's victory. Ennis-Hill finished eighth with a best jump of 6.16m.


Shelly-Ann Fraser-Pryce left nothing to chance in the women's 100m heats, clocking a world lead and meeting record of 10.77 to book her place in the final. There was also a season's best for Carmelita Jeter in second, whilst GB & NI junior Desiree Henry clocked a personal best of 11.50 further back. The second heat was won by Blessing Okagbare who broke the African record with a 10.86 clocking.

In the final it was the African record holder Okagbare who powered out of the blocks to win the Sainsbury's Anniversary Games 100m title and lower her African record further to 10.79. American Barbara Pierre equalled her personal best of 10.85 in second, with Kelly-Ann Baptiste third in 10.93. Jeter didn't start in the final as a precaution against a quadriceps injury.

In the women's 200m, victory went to yet another London 2012 Olympic champion, as Alyson Felix held her form in the closing metres to hold off Shalonda Solomon. Felix stopped the clock at 22.41 into a -0.5m/s headwind, whilst back in fourth, GB & NI's Anyika Onuora (Reider) set a personal best of 22.79. European Under 23 200m champion Jodie Williams (Stanley Madiri) was a couple of places further back thanks to her 23.06 clocking.


The women's shot put featured Olympic champion Valerie Adams and GB & NI's European Junior silver medallist from last weekend Sophie McKinna (Geoff Capes). As expected, Adams took the victory, wowing the crowd in the process. She threw over 20.70m four times, her best throw 20.90m in round five a world lead and new meeting record. McKinna finished ninth, just short of her personal best with a 16.81m throw.


Germany's Christina Obergfoll secured yet another Diamond League victory courtesy of a 65.61m throw in the women's javelin whilst Great Britain & Northern Ireland's Izzy Jeffs (David Parker) was eighth with a throw of 51.65m.



27/07/2013

Sainsbury's Anniversary Games
London, 27/07/2013





Women' results

100 Metres - Women Final Wind: +1.1 m/s
Pts
1 Okagbare , Blessing NGR 10.79 4
2 Pierre , Barbara USA 10.85 2
3 Baptiste , Kelly-Ann TRI 10.93 1
4 Fraser-Pryce , Shelly-Ann JAM 10.94
5 Ahoure , Murielle CIV 10.95
6 Stewart , Kerron JAM 11.02
7 Gardner , English USA 11.08
Jeter , Carmelita USA DNS

100 Metres - Women Heats Race 1 Wind: +0.7 m/s

1 Fraser-Pryce , Shelly-Ann JAM 10.77
2 Jeter , Carmelita USA 10.93
3 Stewart , Kerron JAM 11.08
4 Gardner , English USA 11.10
5 Calvert , Schillonie JAM 11.32
6 Tarmoh , Jeneba USA 11.32
7 Povh , Olesya UKR 11.45
8 Henry , Desiree GBR 11.50

100 Metres - Women Heats Race 2 Wind: +0.1 m/s

1 Okagbare , Blessing NGR 10.86
2 Pierre , Barbara USA 10.90
3 Ahoure , Murielle CIV 10.98
4 Baptiste , Kelly-Ann TRI 10.99
5 Sailer , Verena GER 11.15
6 Schippers , Dafne NED 11.18
7 Philip , Asha GBR 11.33
8 Lewis , Annabelle GBR 11.44

200 Metres - Women Wind: -0.5 m/s

1 Felix , Allyson USA 22.41
2 Solomon , Shalonda USA 22.50
3 Strachan , Anthonique BAH 22.63
4 Onuora , Anyika GBR 22.79
5 McLaughlin , Anneisha JAM 22.88
6 Williams , Jodie GBR 23.06
7 Moore , LaShauntea USA 23.10
8 Silva , Ana Claudia BRA 23.14
9 Trotter , Deedee USA 23.65

400 Metres - Women

1 Ohuruogu , Christine GBR 50.00
2 McCorory , Francena USA 50.13
3 Hastings , Natasha USA 50.68
4 Cox , Shana GBR 51.12
5 Beard , Jessica USA 51.38
6 Day , Christine JAM 51.41
7 Whyte , Rosemarie JAM 51.60
8 Child , Eilidh GBR 51.83
9 Adeoye , Margaret GBR 52.85

100 Metres Hurdles - Women Wind: 0.0 m/s

1 Pearson , Sally AUS 12.65
2 Porter , Tiffany GBR 12.76
3 Wells , Kellie USA 12.95
4 Ennis , Jessica GBR 13.08
5 Lewis , Yvette USA 13.09
6 Hildebrand , Nadine GER 13.10
7 Williams , Shermaine JAM 13.16
Ali , Nia USA DNS

Long Jump - Women
Wind
1 Johnson-Thompson , Katarina GBR 6.46 +0.8
2 Stuart , Bianca BAH 6.46 +0.4
3 Ugen , Lorraine GBR 6.44 +0.8
4 Polk , Tori USA 6.40 +0.2
5 Veldáková , Jana SVK 6.29 +0.1
6 DeLoach Soukup , Janay USA 6.29 +0.1
7 Jimoh , Funmi USA 6.27 -0.3
8 Ennis , Jessica GBR 6.16 -0.4

Shot Put - Women
Pts
1 Adams , Valerie NZL 20.90 4
2 Schwanitz , Christina GER 19.74 2
3 Carter , Michelle USA 19.24 1
4 Kopets , Alena BLR 18.86
5 Terlecki , Josephine GER 18.24
6 Brooks , Tia USA 17.68
7 Ducó , Natalia CHI 17.49
8 Craft , Shanice GER 17.22
9 McKinna , Sophie GBR 16.81

Javelin Throw - Women
Pts
1 Obergföll , Christina GER 65.61 4
2 Abakumova , Maria RUS 64.48 2
3 Mickle , Kimberley AUS 63.05 1
4 Mitchell , Kathryn AUS 61.45
5 Stahl , Linda GER 60.45
6 Flinck , Sofi SWE 54.18
7 Borman , Brittany USA 54.02
8 Jeffs , Izzy GBR 51.65