Interview with Cheyenne Woods and Minjee Lee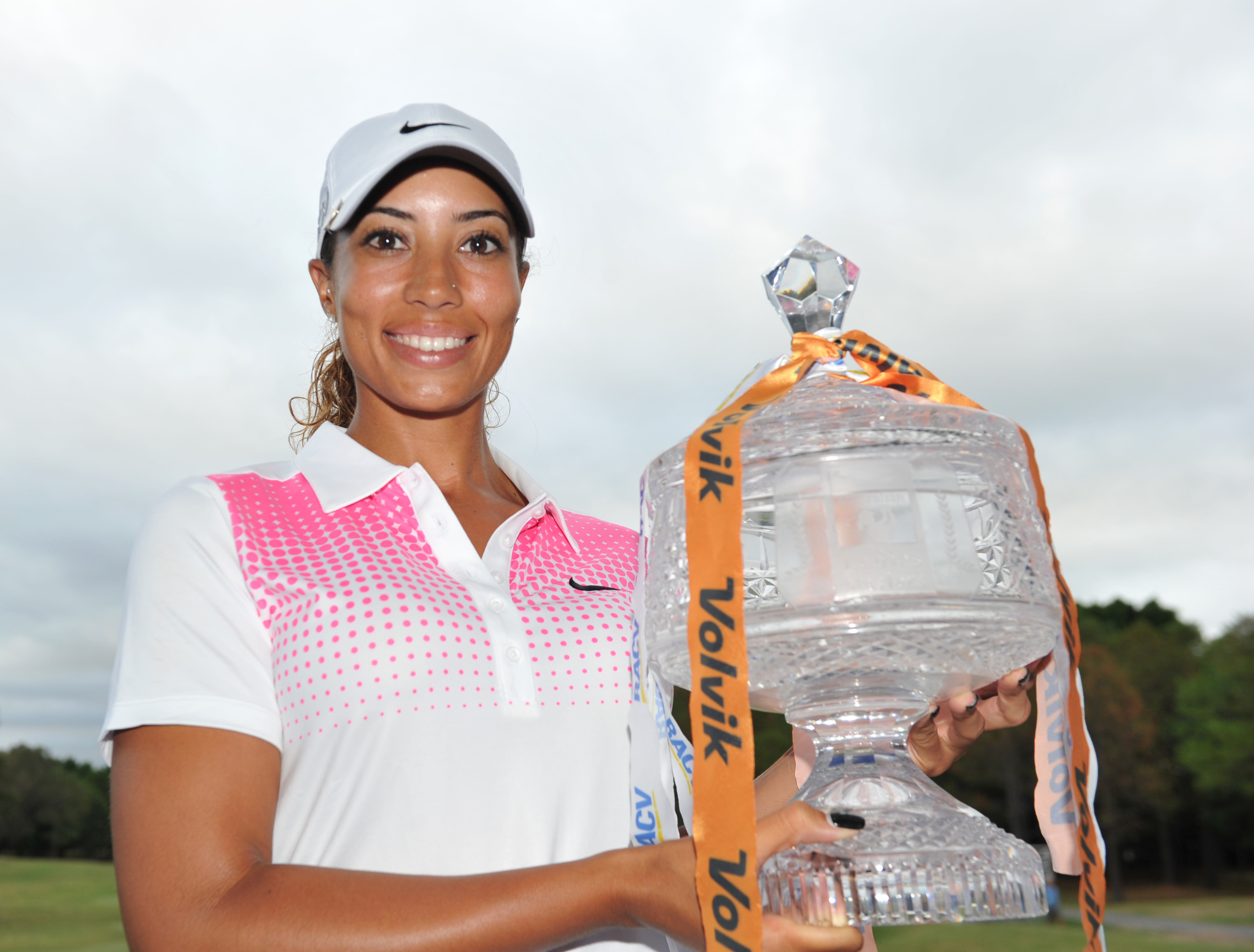 Q. It's been a great week for you, when you were in the ceremony you got a bit emotional when you spoke about your mum and dad, have you spoken to them?
CHEYENNE WOODS: No I haven't, I haven't had the chance to get my phone out. But I know that they've been watching online, every single hole so just to know that they're there for my support while I'm half way across the world is great, and to go home with this trophy will be even better.
Q. You made a point that because of Tiger you've always been associated with that name and now you feel that Cheyenne Woods is a name in her own right?
CHEYENNE WOODS: Yeah, definitely. I've been pro for two years and I think for majority of it people just know me as Tiger Woods' niece so now I have a game of my own and I have a title, or a win which is exciting. I think it's nice now to prove to people that I can play awesome; I'm not just a name.
Q. Today seemed much calmer, it wasn't the hills and valleys that we saw yesterday. You started off woe, just as you aid you needed a good start?
CHEYENNE WOODS: Yeah, definitely. To start out with a birdie really got me off to a good start, yesterday was really up and down but today I was steady. I felt really calm all day, I felt really good with my game, I was confident, I trusted it, overall there was just a calm over me all day.
Q. Do you think we will ever see your caddie again?
CHEYENNE WOODS: I think so, he's doing good! He's got a good record so far so he'll be out there with me next week.
Q. Does the emotion out there show just how much getting that wins mean to you?
CHEYENNE WOODS: Yeah. This is a huge accomplishment for me. The Ladies European Tour has been great to be able to play this last year, I've been able to see all of these great players, play with Solheim Cup members, so I've learned so much from all of these girls and to be able to come out here and actually compete with them and come out on top was huge for me. All off season I was just getting ready with my coach back home and he told me he thinks that this is my year, my time to finally get a win and to have it this early in the season is exciting, especially with European Tour and then here in Australia. I'm just really proud with how I played this week and followed through all four days and finished strong.
Q. Inaudible question.
CHEYENNE WOODS: That would be huge, but I'm just going to take it one day at a time. I'm going to enjoy today and then I leave for Melbourne tomorrow, so I'll be out there, definitely feel good about where my game is so I'm looking forward to playing next week.
Q. Will you be coming back here next year?
CHEYENNE WOODS: Yeah I hope so, that's the plan.
Q. Has this all come as a surprise, did you think at the start of the week it could have been a huge week like this?
CHEYENNE WOODS: Not necessarily a shock but I missed the cut last week by two shots in New Zealand, 77, 71 so I didn't play well last week but I came into this week with a new mindset, I worked on a few things and everything just kind of clicked. It worked out really well, after the first round I knew I could win, so from there on out that was the goal.
Q. Was there a stage of the back nine when nerves started to kick in a bit and how did you get over that?
CHEYENNE WOODS: I would say maybe around 14, 15 because I knew there were a lot of good holes coming in and Minjee was there, she was hitting it right next to the hole every time so I knew I had to do something. So I made a birdie on 15, 17 hit it in the bunker and I knew I had to get up and down because she was right there for birdie, 18 was a birdie so maybe around then a little bit of nerves but I managed to compose myself and keep it together which worked out.
Q. Cheyenne what kind of messages did you get from mum and dad through the tournament or last night?
CHEYENNE WOODS: Every day I have gotten text messages from my family back at home watching online all throughout the night, it's probably 1 or 2am back home but they've always been so supportive and it's so good to be able to come out here half way across the world and still know that you still have your family back home watching your every move. That means a whole lot to me and it makes being out here a lot easier, my family has been so supportive all week and I know that they are excited right now.
Q. You seemed very comfortable talking with Minjee all around the course, what's your regard for her game?
CHEYENNE WOODS: Yeah she played great today, she also played very steady, she has a really strong game. I was able to play with her last year in the Australian Open ProAm, so I knew her from before and just to see how young she is and how solid her game is all around is really exciting to see.
Q. What changes for you now that you've won a tournament?
CHEYENNE WOODS: I think it just highers my expectations of what I am capable of. Growing up with the last name of Woods there is a lot of expectations and pressure and spotlight on you, but I always knew I was able to win, I knew that I would be able to compete with these ladies and so now it's kind of a weight off my shoulders, just because now everybody knows not just me so I don't have to prove anything to anybody. So it feels good, most importantly it's self-satisfying.
Interview with Minjee Lee
Q. So close, but so far, you said you were thrilled with the result?
MINJEE LEE: Yeah, I haven't really been in this situation before so I am happy with how I played today and hopefully there are many more to come.
Q. Coming into this tournament did you feel that your game was really special?
MINJEE LEE: Not really, it was just okay, everything was just solid so I thought I had a great chance before coming into the tournament.
Q. What was the strongest part of your game today?
MINJEE LEE: I can't really pin point it. Everything as just okay, I was steady, some of my outs didn't drop but I am happy with the results.
Q. Andrew your caddie, caddied for you in Melbourne a few years ago, how did the arrangement work out for this tournament?
MINJEE LEE: He just messaged me one day and said he was going to be down here so we just met here. He lives in Noosa so he just said he could caddy.
Q. Was he a big help in terms of those little calming moments?
MINJEE LEE: Yeah, like around the greens and stuff they are all pretty flat so having a second opinion was really good and reassuring.
Q. Are you strong enough in your own thoughts to overrule him if things came to that?
MINJEE LEE: Yeah, if I had it he would just agree and say that's what I think.
Q. Can you tell us what your plans are for the rest of this year?
MINJEE LEE: I'm playing Vic Open the week after that and then I am going to China for the World Ladies Championship and then after that hopefully I can go to the States or get some starts on LPGA.
Q. You played very solidly today, but how did you find the actual occasion?
MINJEE LEE: I enjoyed it, it was a little nerve wracking but it was good.
Q. You've won two Australian amateur championships, you've won a U.S girls junior championship as well, how did the final round here in a professional tournament differ from playing those events?
MINJEE LEE: I don't think it felt nay different, I think coming into it I was a little bit nervous, like the last round but same as all the other final rounds you have – same mentality.
Q. Karrie was probably the Australian favourite coming into this week, did you feel like there was any pressure being the top Australia?
MINJEE LEE: Not really, we all know Karrie is amazing, it was just a mistake, and everyone makes mistakes. So no, I didn't really feel that pressure to win – it was just unfortunate that she got DQ.
Q. She had a third placing in her first time here as an amateur, are you hoping that you could possibly have a similar career trajectory?
MINJEE LEE: Definitely, I would kill to have her career, really. But hopefully it will go up from here.
Q. Have you got a set goal as to when you may turn professional, knowing that you can mix it up with the best of them?
MINJEE LEE: Not necessarily, when I want to I guess I will just go – but Q School at the end of the year probably.