The gymnasts, competing in the Out of Age Grade 1 mixed pair competition, took gold at the South West Acrobatic Gymnastics Prelims competition in Sherborne last weekend, beating off competition from other partnerships from across the region.


Seven-year old Aimee and 13-year-old Morgan are coached by Pam Burns and Melissa Ilsley.
"Morgan and Aimee performed excellently, showing great promise for the future," said Melissa, "and we are extremely proud of them. They had to perform in the Out of Age category as Aimee is still too young to proceed through to national finals, but we're confident that we'll be seeing more strong performances from them for years to come, with the potential of competing at a national level."


Morgan and Aimee, who scored 25.60 out of 30, performed a two-minute choreographed routine that included balance and dynamic partner elements, along with tumbles, agilities and flexibility moves.


The duo's performance topped off another successful day for Honiton Gymnastics Club, where many members competed for the first time in a regional preliminary competition. Also in the medals were 12-year-old Corinna Challis and seven-year-old partner Sophie Patmore, also coached by Pam and Melissa, who took bronze in the Out of Age Grade 1 Girls Pair competition. They were followed closely in fourth by Erin Blackmore (aged eight) and Michelle Quick (aged 11) in fourth.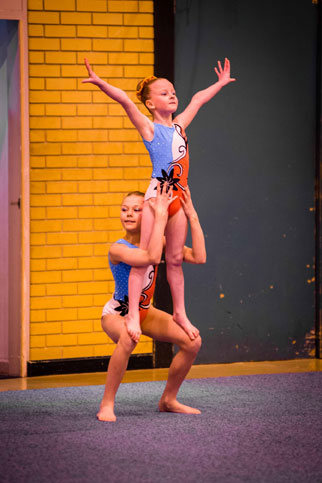 "The second medal topped off an excellent competition," added Melissa. "We had a number of other gymnasts who were competing for the first time in the preparation grades and this was a great first experience for them."
Honiton gymnasts competing in Sherborne included performers from the club's Recreational Competition Group, Club Acro, and Squad Acro Groups.
Honiton Gymnastics Club caters for gymnasts of all ages, including Saturday Morning Kindergym, Gym Crazy Kids for children aged 4+, recreational groups, competition squads, and adult gym sessions. To find out more visit www.honitongymclub.org.
Full list of Honiton results
Grade A Women's Pairs: Harrianne Wood & Nia Collins – 12th, 21.80
Grade B Women's Pairs: Emma Tipton & Piper Leisk – 6th, 24.15
Grade B Trio: Harvie Pugh, Ilana Cousins & Scarlet Livingstone – 4th, 24.00; Ellie Monro Higgins, Olivia Wootton & Jessica Downs – 8th, 22.30
Grade 1 Mixed Pairs: Morgan Johnson & Aimee Dean – 1st, 25.60
Grade 1 Women's Groups: Valentine Tutcher, Emily Peck & Catie Lee – 4th, 24.30
Grade 1 Women's Pairs: Corinna Challis & Sophie Patmore – 3rd, 25.95; Shelly Quick & Erin Blackmore – 4th, 25.65; Katie Studley & Chloe-Mae Outram – 8th, 24.10; Hannah Selway & Katie Hennessy – 9th, 24.00
To see more photos from the event visit http://goo.gl/ocLRK.